Limited Release Collection: Desert Skies!
This gorgeous functional collection is brand new to the shop this week and packed full of all your favorite staples. Perfect for the end of summer into fall transition. The palette is rich earthy tones often seen in our desert landscape, we're in love! Grab yours before the collection hits the vault.
check it out!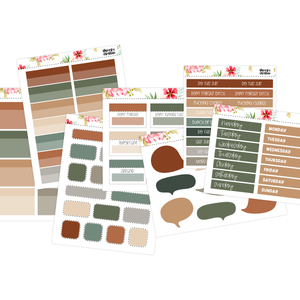 Shop our newest kit collections!
---
About Us
We are a small family owned business located in sunny Gilbert, Arizona. Here we believe that a swear a day keeps the cranky away. We like to keep it real in our planners; the good, the bad and the ugly.  We also believe in creating original stickers that make us laugh when we might want to cry. We hope you'll find something that speaks to you and your planner.